Kids of all ages love to dig in the dirt and make a mess! Gardening is great because it can teach us about our environment and how things grow. And not only will you be teaching your children about hard work, patience, and responsibility, your child will love the quality time you spend with them- I bet you will enjoy it too!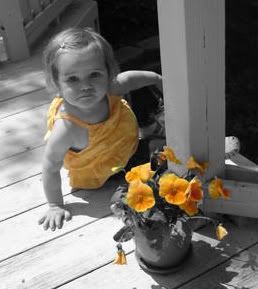 Where to Start?
First, you need to decide what kind of garden you want to start. Here is a cute link to help you: My First Garden . Your garden doesn't need to be large! In fact, if it's your first year of gardening with your child (or on your own) then it probably isn't a good idea to take on responsibility of a 10x12 foot garden! Small is best to start with; you could even start out with a few pots.
Once you decide what kind of garden you want to make, and how big to make it, you can prepare your soil. I posted a blog a while back about garden preparation:
Craft, Home, and Garden with Rachel
How do you get your child excited about gardening? I will quote from http://www.kidsgardening.com/ because I like their answer so much.
A few things that I would add:
Purchase or check books out of the library about gardening and read them together.
Let your child draw a picture of his/her plants on a 3x5 card. Laminate it and attach it to popsicle sticks for row markers.
Purchase child-sized garden tools for your child to use- they can be found inexpensively at many stores.
Plant vegetables that your child likes to eat—easy way for them to get involved and learn where some of their food comes from.
See if there is a local Children's garden nearby. We have one here in Michigan, that I would love to take my girls someday:

Michigan 4-H Children's Garden

.

If you do visit, see what your child is drawn to and enjoys the most- maybe you could incorporate some of those plants into your own garden.
Getting Ready to Plant
How to Design a Children's Garden
You can start growing your seeds directly in the ground, or in small containers. You don't need to buy a fancy seed-starter kit. An empty coffee can, ice-cream container, milk carton, or even a paper cup would do. Drill holes in the bottom so the water can drain.
Soak your seeds overnight so they will sprout more quickly- but don't do it until you are ready to plant them. Once they are wet they shouldn't be allowed to dry out. If you plant them in the ground, make sure you read the instructions on your seed packet to see how far apart to plant them and how deep in the soil you should bury them. If you start them in a small container inside, put them in a sunny spot. Once they start sprouting, thin your plants if they are too tightly grouped (less than 1 inch apart). This gives the rest more room to grow. Most seed packets will tell you when to plant them in the ground outside, but usually it is when they are about 3 inches high (about 2 weeks after you have planted the seeds).

One of the easiest plants to grow from seed is the sunflower. You don't need much space to grow one; you can even grow one in a pot! They will be happy in a sunny spot in a pot with some Miracle Gro potting soil. There are 67 varieties but the big Mammoth one is very fun with kids as it can get up to 10 feet tall! Here is a link for successful sunflower growing: Tips on How to Grow Sunflowers from Seed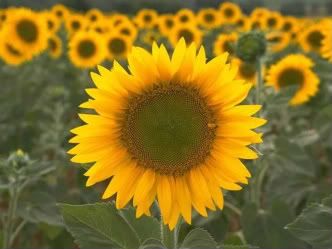 Themed Gardens for Children
Pizza Garden: You could make your garden round, then plant tomatoes, onions, peppers, and a variety of different herbs. You could even plant some white or yellow flowers to represent cheese (see below).






Sun and Moon Garden: plant Sunflowers, Coreopsis, Cosmos, Nasturtium, and Moon Vine (See below).
Petting Zoo Garden: Zebra Grass, Spider Flower, Lion's Tail, Cockscomb, Catmint, Snapdragon, Lamb's Ear, Hens & Chicks




Rainbow Garden

: Arch shaped garden with rows of different colored flowers




ABC Garden: choose one plant for each letter. This would take up a good amount of space- you could do gardening by the foot (divide your space in 1x1 foot squares; Plant one flower/plant in each square foot). You would need 26 squares, one for each letter.




Butterfly Garden: Purple Coneflower, Butterfly Bush, many other butterfly-attracting flowers




Nose Garden: Choose fragrant plants



Cinderella Garden: Plant pumpkins and Lady Slippers

Older Kids
Historical Garden: Choose a time in history and research plants for that period




Native American Garden: Corn, Beans, and Squash




Surprise Garden: Plant a variety of seeds and let your children identify each plant

Here are two online Children's garden plans:

Bordine's Child's Garden
Better Homes and Garden's easy children's vegetable garden plan

Books on Children's Gardening:

Ready, Set, Grow!
Kids Gardening
The Ultimate Step-by-Step Kids' First Gardening Book
The Christian Kids' Gardening Guide
A Backyard Flower Garden for Kids

Have fun!!! :)