Here in Michigan, by March we are yearning for spring days! What better way to celebrate the anticipation of greener days to come than to have a little St. Patrick's Day party? Here are some fun crafts and ideas to try, perfect to make with your young children.
Hand Leprechaun Greeting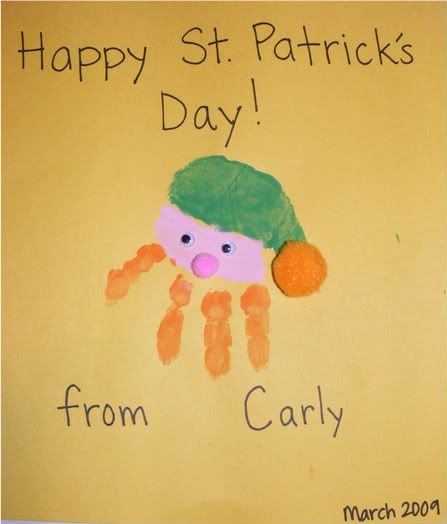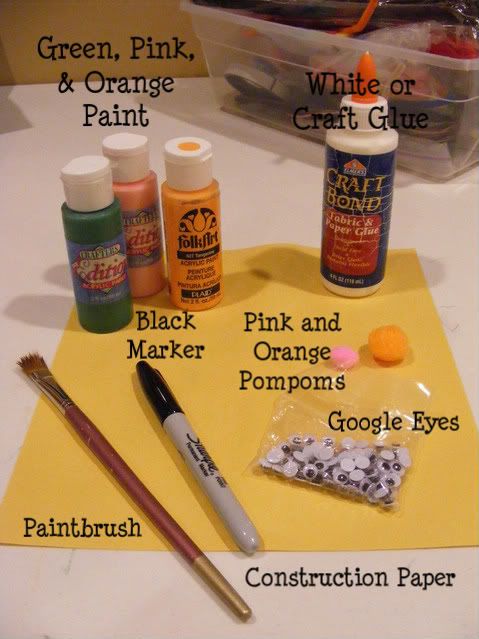 1) Paint the fingers of one hand orange for the beard. Paint a strip of pink or peach for the face, and paint the thumb and rest of the hand green to make the hand of a leprechaun.
(try to ignore my daughter's green fingertips- this was after we had stamped her hand and she quickly drew her fingers into a fist!)
2) Print the hand on the card with the hand facing downward. Let the card dry.
3) Glue a pair of google-eyes and a pink pompom nose on the pink/peach face of your leprechaun. Glue the orange pompom onto the tip of the thumb so it looks like he is wearing a stocking cap.

4) Write a greeting on your paper or you can do this project on a folded sheet of paper (and put the greeting inside) to make a card for a friend/family member.
Button-Nosed Shamrock Friend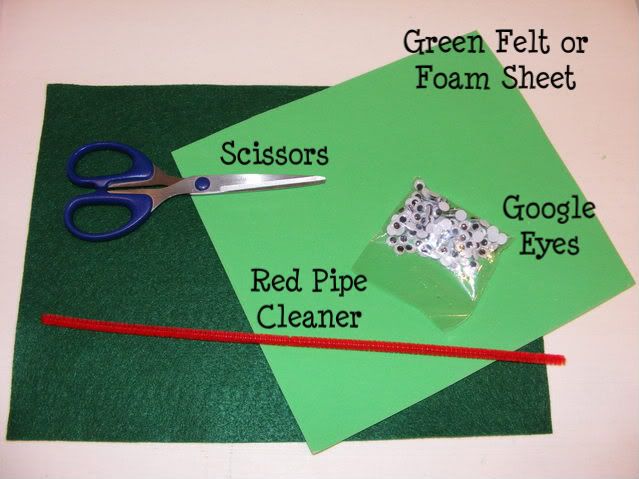 1) Cut a small shamrock from a piece of green felt or craft foam. Cut a 1/2-inch slit along the center of the shamrock for a button hole.

(See picture below)
2) Glue two google-eyes to the Shamrock.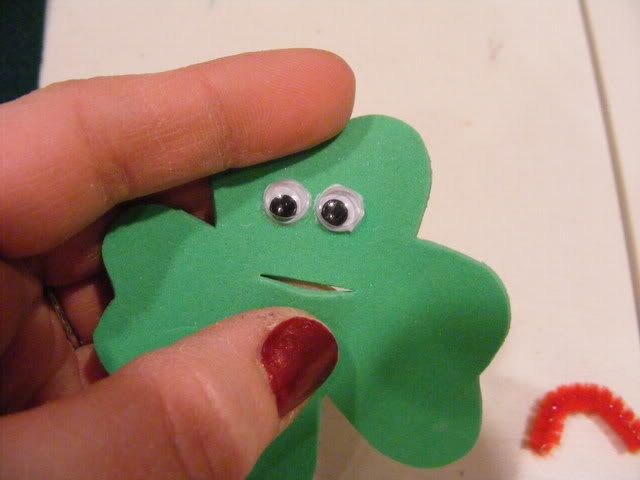 3) Cut a 1-inch piece of red pipe cleaner and bend it to form a smile. Glue it to the shamrock below the slit.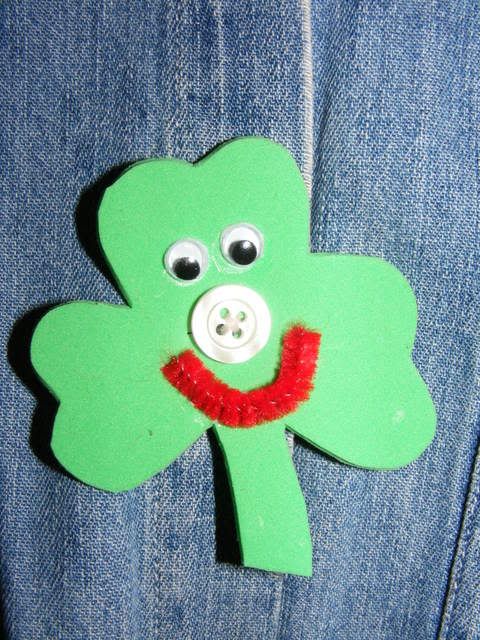 This little guy's nose will depend on the kind of button you are wearing! This would make a very cute, easy gift to make for teachers of classmates!
Instructions:
1) Cut a circle from the white paper, just big enough to cover the outside (top) of the bottle cap. Put a piece of masking tape on the outside of the cap to make a better gluing surface. Glue the white surface to the cap.
2) Cut a shamrock from the green paper small enough to fit on your white circle-- or you can put a shamrock sticker on, as I have.
3) Turn over the cap and put a piece of masking tape on the inside of the cap. Put another piece on the penny, and then glue the penny inside the cap. Let dry.
4) Cut a piece of green yarn as long as you want your necklace to be. Rub glue around the outside of the cap and tie the yarn around the cap. Then tie the two ends of the yarn together to make a necklace.
I chose to continue wrapping the yarn around to cover the entire outside edge of the bottle cap.
*Note that I used white yarn. This necklace would look better with green yarn but I didn't have any; I'm for using what you have! If you can't find a bottle cap, use a water bottle cap or another tiny round trinket.
Your little Irish lad or lass will love wearing their lucky penny hidden behind their shamrock necklace!
*Note: since the penny could come off, posing a potential choking hazard, this project is not safe for children under 3 years of age.
Products Needed: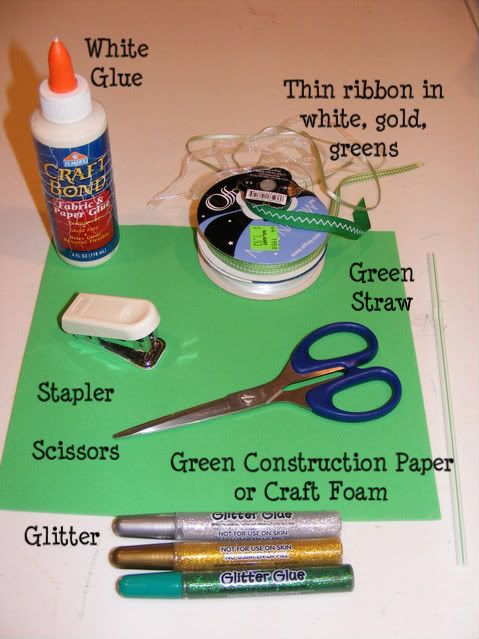 Instructions:
1) Cut three heart shapes out of the green paper or craft foam. If you don't feel confident to draw three hearts freehand, you can trace a cookie cutter.
2) Decorate your hearts with glitter, stickers, and other fun decorations.

3) Glue the tips of the three hearts together to form a shamrock. Let the glue dry. Staple the center of the shamrock to one end of the straw to make a handle.
4) Cut three or more 3-foot long ribbons. Hold them together and staple them to the back of the shamrock so the ends hang down from the shamrock wand.
Do you think your Magic wand will help you catch a leprechaun?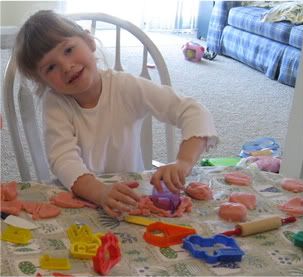 This is a great time to make some
GREEN
dough for your little ones to play with on a rainy March day.
Ingredients:
1/2 cup salt
2 scant cups of water
2 TBSP oil (canola, vegetable, or other)
2 cups of flour
3 TBSP Alum powder (you can find it at bulk stores or in with spices/flour)
Food coloring



Directions:


1) Boil water and salt until the salt is not grainy. Add oil and food coloring.

2) In a bowl, combine flour and Alum. Add the liquid to the flour mixture.

3) Stir well, form into a ball and knead well.

Dough will keep for a few months if stored inside a plastic bag in a covered container. This recipe makes enough dough for a few children to play at once.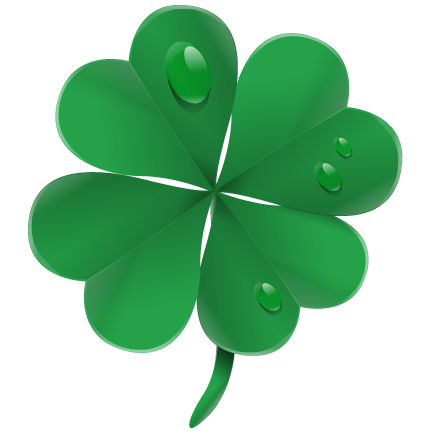 Many of us think of the Shamrock when we think of St. Patrick's Day, but do you know why?

Saint Patrick's name was actually Maewyn Succat; He was born in Scotland around 400 A.D. When he was 16 years old he was kidnapped by pirates and taken to Ireland as a slave. During this time he prayed much and his faith began to grow. He escaped 6 years later and became a preist, and felt the Lord was calling him back to Ireland, where he had been a slave. Irish people at that time did not believe in God. Patrick lived and preached for 40 years, converting Ireland to Christianity, and becoming a bishop. Legend credits him for driving the snakes out of Ireland; Many pagan religions worshipped serpents so the legend is probably symbolic of him driving pagan religions out of Ireland. He is also credited with teaching the Irish about the concept of the Trinity by showing people the Shamrock, a 3-leaved clover, using it to highlight the Christian belief of three divine persons in the one. It wasn't until after his death that he was deemed a Saint. March 17th, known as St. Patrick's Day, is believed to be his death date.
If you would like to use the Shamrock to teach your children about the Trinity, like St. Patrick did, this site has a few easy crafts to print out: http://www.christianpreschoolprintables.com/StPatricksDay.html
Irish Munchies
If you get hungry while you're crafting, here are a few green St. Patrick's day goodies you might like to try:
Magically Delicious Drink
Use Sprite, 7Up or ginger ale, green ice cubes. Pour each child one cup of Sprite, 7Up or ginger ale. Add green ice cubes. As the ice cubes begin to melt, the drink will magically change colors.
Leprechaun Dust
Ingredients: 1 box jello instant pistachio pudding, one baby food jar with lid for each child, spoons, milk
Directions: Place one tablespoon of leprechaun dust (pudding powder) in each jaradd 1/4 cup milk place cap on jar and have your little leprechauns shake away adding the milk makes the instant pudding turn green
Easy Shamrock Cookies
Ingredients: Refrigerated sugar cookie dough, green food coloring
Directions: Put dough in a ziplock bag with a few drops of green food coloring. Let your children squish it around until all the food coloring is blended. Refridgerate for 20 minutes or so (because their little hands warm up the dough too much). Roll it out and use a large shamrock cookie cutter to cut out cookies- bake as directed!
Shamrock Jell-O Jigglers
Ingredients:1-1/2 cups boiling water and 1 pkg. (8-serving size) JELL-O Gelatin, any flavor (of course we use green lime flavor!)
Directions: Stir boiling water into powdered gelatin for at least 3 minutes until well dissolved. Pour into an 8x8 glass pan and refridgerate 3 hours or until firm. Dip pan in warm water for 10 seconds to make the jigglers come out of the pan easier. Cut your jigglers out with a Shamrock cookie cutter for a perfect Irish JELL-O treat.
For more St. Patty's day fun, check out these websites:
http://familyfun.go.com/stpatricks/
http://www.dltk-holidays.com/patrick/
http://www.enchantedlearning.com/crafts/stpatrick/
http://crafts.kaboose.com/holidays/st-patricks-day/
May your blessings outnumber

The shamrocks that grow

And may trouble avoid you

Wherever you go.